ALERT: Typical Hand Sanitizers Only Work
FOR TWO MINUTES!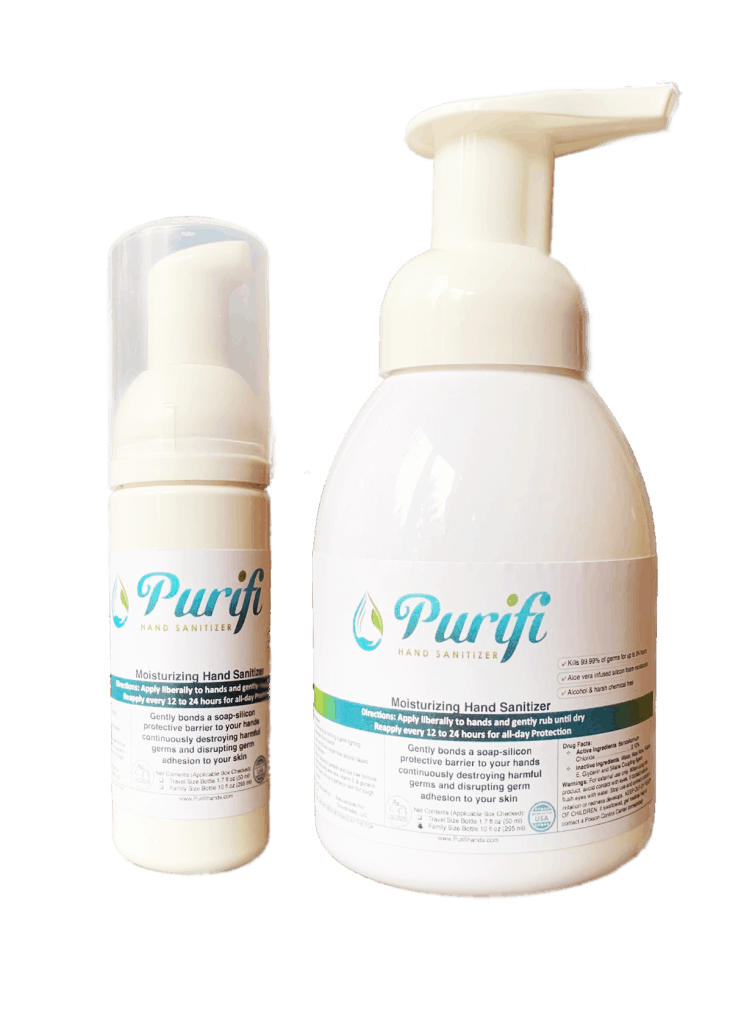 Can Your Hand Sanitizer Do This?
Stay effective AFTER you wash your hands?
Protect your hands ALL Day?
Stay Effective When You're
TOUCHING THINGS
?
Don't just sanitize... Protect All Day...
With Purifi™ - The All Day Hand Sanitizer That Works When Dry
NEXT-GENERATION HAND SANITIZER TECHNOLOGY: Purifi's patented technology kills germs AND LASTS For HOURS – All without drying out your skin & creating cracks that viruses and bacteria can lodge in to harm you later.

Don't Just Sanitize over & Over...
PROTECT For Hours & Hours.
If you're tired of putting sanitizer on every 5 minutes and the cracked, dry hands that come with it, then you need Purifi™, the breakthrough alcohol-free hand sanitizer technology that's been used by the military for years and is now available to the public for the first time through this special website.
You know how it goes. You put on your hand sanitizer and go about your business. You touch a bunch of stuff, so you wash, then put your hand sanitizer on again… and again… and again. Well now you can kiss those days goodbye.
Meet Purifi™ the breakthrough hand sanitizing technology that doesn't just sanitize, but proactively PROTECTS your hands for HOURS.
"As a Seal Team 6 Special Operations Combat Medic, I always went into battle with the best and most advanced equipment. Purifi™ Hand Sanitizer's patented technology is exactly that."
Even With Frequent Hand Washing
Purifi™'s fast drying lightweight foam forms a germ fighting breathable microscopic barrier that lasts for hours and persists through hand washing. It continues to kill germs on contact whether your hands are wet or dry.
With Alcohol Based Hand Sanitizers
There are several
known problems
with alcohol based hand sanitizers. Most of these are of little concern when using over-the-counter sanitizers now and then. But with frequent use, such as the kind we're experiencing now, there are several concerns to be extremely aware of.
The main 3 to be concerned about with frequent use of hand sanitizer are:
Frequent use of alcohol

can break down the skin's natural barriers making the skin more permeable. If your skin is more permeable, then germs, bacteria and other "baddies" have a better chance to enter your system through the skin and get into your bloodstream;
Normal hand sanitizers

only last a few minutes

. And as soon as you touch something contaminated, you have to re-apply them to stay protected.
Repeated use of alcohol-based sanitizers can contribute to

creating resistant bacteria

(i.e. "super bugs") similar to the over-use of antibiotics.
Purifi™'s patented antimicrobial technology does not use poisons or chemicals to kill microbes. Its breathable barrier uses a microscopic mechanical action to penetrate the microbes on contact and destroy them instantly. This complete destruction of the microbe leaves no chance for survival or mutation to begin.
Purchase Any Hand Sanitizer And Become A PREMIER MEMBER To Get First Access To Special Offers & New Products
For less than 50 cents-a-day, this 1.7 Oz bottle easily fits in your purse, duffel bag or glove compartment and lasts approximately 30 days with daily use.
Two 1.7 Oz travel ready bottles for you and a loved one for 60 days of daily use.
A 10 Oz bottle with enough Purifi™ to last a family of five
30 days.
One 10 Oz and one 1.7 Oz bottle of Purifi™. Enough to last 6 people 30 days or 2 people 90 days, etc.
Get Out There Pack
Head Out Fully Equipped
4 Silver Nano Wash & Wear Masks

4 30-Day Bottles of Purifi™
Purifi™ Team Pack
Equip Your Team for 90+ Days
Ten 30-Day Purifi™
Four 10 oz Family Size Purifi™
Purifi™ Family Pack
Equip The Whole Family
4 Silver-Nano Wash & Wear Masks
2 10 oz Family Size Purifi™
4 30-Day Purifi™
Safe Student Pack
Fits Right In Back-Pack
1 Silver-Nano Wash & Wear Mask

One 30-Day Bottle of Purifi™
Use & Toss Masks
With Nose Guard
Package of 50 3-Ply One-Time Use & Toss Face Masks
Back To Work Pack
Everything You Need
Two 30-Day Purifi™
2 Silver-Nano Wash & Wear Masks
50 Use & Toss Masks
Face Guard
Complete Mask Supply
2 Silver-Nano Wash & Wear Masks
50 Use & Toss Masks
Wash & Wear Masks
Silver-Nano Infused 2 Pack
Wash up to 30 times. Anti-microbial silver protects 30% more than other cloth masks.
by special customer request…
You asked for it. You got it. We're pleased to offer the Purifi™ 90-Day Team Pack with enough Purifi™ to last a team of 20+ 90 days. For all the small businesses and teams out there who are keeping our economy going.
Includes:
20 (TWENTY) Purifi™ 1.7 oz 30-Day Individual Bottles – a $279 Value; and,
10 (TEN) Purifi™ 10 oz Family Size Bottles – a $399.50 Value
Total Value = $678.50
Normally only $499.95 – NOW ONLY $124.99 WITH COUPON!
*These products and statements have not been evaluated by the FDA. These products are not intended to diagnose, prevent, heal, treat or cure any disease or injury. If you have any concerns, please consult your health care provider.