Personal & Business Protection Total Care
Opening America Back Up
TOTAL FACE & HAND PROTECTION
Medical Grade Hand Sanitizer | three-ply Disposable Masks | anti-microbial Washable Cloth Masks
Opening
America Back Up

Total Care Solution - PRODUCT IS AVAILABLE IMMEDIATELY!
Here are the vital personal protection products that will be required by many states.
New Team Packages Now Available Below.
TOTAL PROTECTION AVAILABLE RIGHT NOW ...
Protect your family, friends & TEAM with the essential gear to get back up & RUNNING
PureVita hand sanitizer is a premium pH balanced antimicrobial formula that is mild on skin, yet tough enough to exceed FDA/ USDA efficacy guidelines for Medical Grade hand sanitizers and antiseptic hand treatments. PureVita exceeds the guidelines for E3 (Medical Grade) hand sanitizers and has been used by health care facilities for years.
With a mild blend of skin emollients and alcohols, PureVita hand sanitizer is intended for use as a no-rinse hand sanitizer. It also contains glycerin to leave your hands feeling soft and moisturized.
Sold in 8 ounce bottles.
Active Ingredient: Denatured Ethanol 70% by volume.
Inactive Ingredients: Glycerin, Hydrogen Peroxide
Physical Properties:  Clear color, slight alcohol scent, no added fragrance.
Facial Virus Protection - Use & Toss
This disposable medical-grade mask is designed for antiviral applications. This mask is soft and comfortable because of its 3-ply, multi-layer, breathable safety material. The mask is designed for personal daily health protection. It also, filters out dust, pollen, and smoke.
Sold in packs of 50.
Facial Protection -
Wash & Wear
The 30-Day Ultra Soft wash and wear mask is designed to give you a more protective barrier than a scarf or bandana. It is simple, elastically fitted facial protection which you can use anywhere and supplies a higher level of protection than a classic mask.
These masks offer 92.2% anti-bacterial protection, according to testing by the Vietnam Textile Research Institute and Textile Testing Center. Average multi-layer consumer masks block 70% of particles. Our masks block 92.2%. Sold in packs of 2.
The masks have three layers – an inner hydrophilic layer, a middle filler layer, and an outer hydrophobic layer – and they fully cover the nose and mouth. The face masks prevent droplets from spreading, and they offer breathable protection for all adults, even those with sensitive skin. These masks are the most comfortable and easy to breathe masks on the market. These are the same masks used in Vietnam with great results !
Our 30-Day Face Masks are carefully sewn with high quality materials that we guarantee to be comfortable, hypoallergenic, non-toxic, and suitable for all-day wear. Our soft, safe material is a 65% cotton / 35% polyester blend and is washable by hand with soap and water.  We do not recommend using washing machines.
Each mask may be worn and washed up to 30 times.
Made in Vietnam
Get your Total Protection Kit Now – While Supplies Last
In order to ensure everyone can benefit from Total Protection Kit, this offer is limited to 5 offers per household.
Solo Basic

Protection Package
One 8 oz PureVita Hand Sanitizer

Two 30-Day Wash & Wear Masks
Solo Full

Protection Package
One 8 oz PureVita Hand Sanitizer

Fifty (50) Use-N-Toss Masks
Family

Protection Package
Four (4) 8 oz PureVita Hand Sanitizer Bottles

Fifty (50) Use-N-Toss Masks
Small
Business
Essential Protection
Eight (8) 8 oz PureVita Hand Sanitizer Bottles

Fifty (50) Use-N-Toss Masks

Ten (10) Wash & Wear Masks
Medium Business
Maximum Protection
Twenty (20) 8 oz PureVita Hand Sanitizer Bottles

One Hundred (100) Use-N-Toss Masks

Twenty (20) Wash & Wear Masks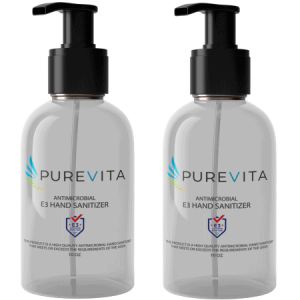 Two 8 oz PureVita Hand Sanitizer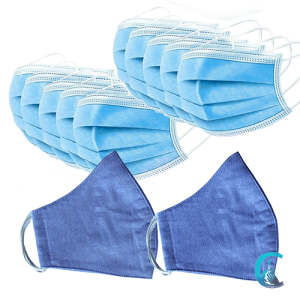 Fifty (50) Use-N-Toss Masks
Safe Hands
Small Business & Family Offer
Out & About
Small Business & Family Offer
2 PureVita 8 oz & 100 Use-N-Toss Masks